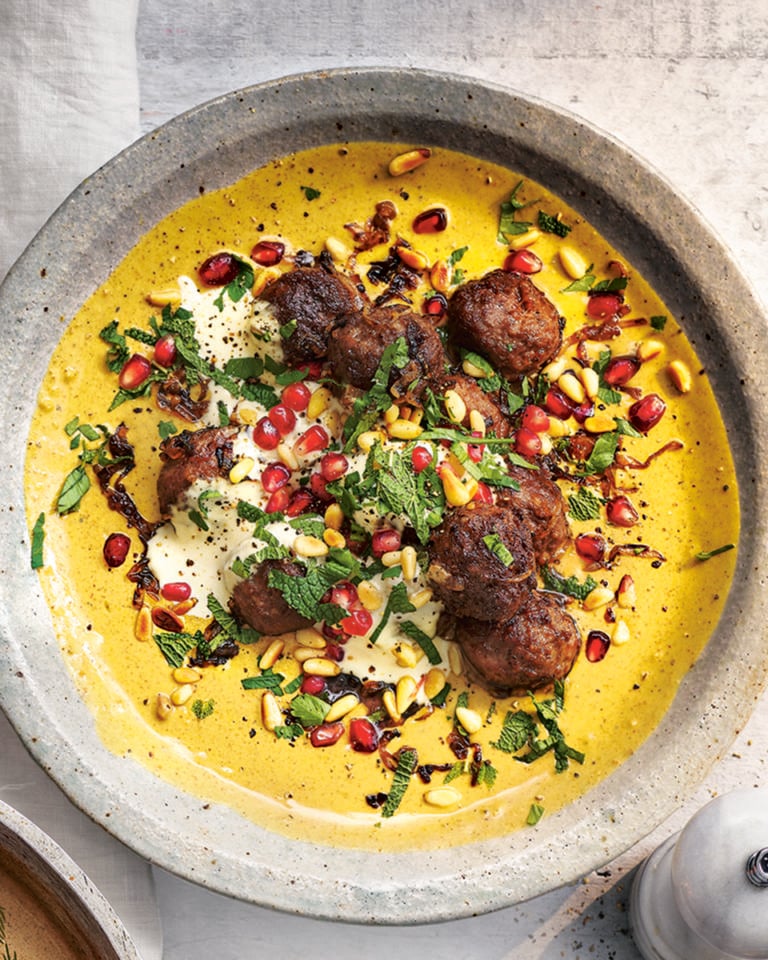 Ingredients
2 tsp olive oil
12 British organic beef meatballs
2 banana shallots, chopped
1 crushed garlic clove
½ tbsp plain flour
2 tsp ras el hanout spice mix
300ml chicken stock
150g houmous
150g natural yogurt
Handful of freshly chopped mint
Handful of freshly chopped parsley
3 tbsp pomegranate seeds
3 tbsp toasted pine nuts
Method
Put 2 tsp olive oil in a flameproof casserole (with a lid) over a medium heat and brown 12 meatballs all over.
Add 2 chopped banana shallots and 1 crushed garlic clove and cook gently, stirring, for 8 minutes or until the shallots are soft and the meatballs are cooked through. Remove the meatball/shallot mixture with a slotted spoon and set aside.
Whisk ½ tbsp plain flour and 2 tsp ras el hanout spice mix into the oil, then gradually whisk in 300ml chicken stock to form a smooth sauce.
Combine 150g houmous and 150g natural yogurt in a bowl, then stir half into the sauce and heat through.
Return the meatball/shallot mixture to the casserole, cover with the lid and cook for 2-3 minutes to reheat.
Serve the meatballs topped with the remaining houmous/yogurt mixture, a small handful each of freshly chopped mint and parsley, 3 tbsp pomegranate seeds and 3 tbsp toasted pine nuts. Serve with couscous or flatbreads.